We all have ways of life that we assume are somehow the "right way," or are somehow optimal. And then you talk to someone that does things completely differently--and it works--and you find out about a whole set of assumptions you've been carrying around that are suddenly suspect.
The meetup group I help organize,
Controversial Topic Discussion Club
, had someone come in to talk about
polyamory
. Copying from the wiki entry:
Polyamory is the practice, desire, or acceptance of having more than one intimate relationship at a time with the knowledge and consent of everyone involved. It is distinct from swinging(which emphasizes sex with others as merely recreational) and may or may not include polysexuality (attraction towards multiple gendersand/or sexes).[2][3][4]Polyamory, often abbreviated as poly, is often described as "consensual, ethical, and responsible non-monogamy.
It's one of those ideas that's so foreign to how I was brought up, so different from the monogamous 2-person relationship society tells us is right, that I never even considered it to be anything other than unnatural and bizarre. Until I met several very normal sounding people the other night that are in relationships with 3 or 4 people at once (or more), all of which are perfectly content with the situation, and have been for years (and raising kids!).
I first imagined that everyone would somehow love each other equally, and have sex in multi-way orgies, but this is an outsider's ignorant assumption. The relationships are not always equal--one person may be dating someone outside the core family that's not involved with anyone else in the family. And some members may not have sex with others. Being poly apparently doesn't mean you're bisexual, gay or anything. It only means you're not monogamous, and that there's long-term commitment to the other partners ("swinging" is different in that it's more focused on sex than relationships). I'm certainly not anyone you should listen to to get a definition, but I think it might include a married couple where it's ok to date other people.
The speaker made a point to differentiate between the consensual open relationships he and his family have, and cheating. I believe he said cheating is when the other partner(s) don't approve, or when someone is doing something without telling others. Everyone in a poly relationship is ok with everyone else's relationships. He said jealousy is an issue, but it's an issue in any relationship, and you have to talk things out. He was ok that his wife could build relationships with other people, and is happy she's doing something that makes her happy.
As weird as all this sounds, the more I think about it, the more it seems like a more honest and open form of what are probably very common situations. For example, dating multiple people at once. Or being married, and having an affair. Is it really natural to expect two people to be madly in love with each other--and sexually interested in each other--for over 50 years? The divorce rate may say something about this. (note: I
couldn't find any hard evidence that more than 50% of marriages end in divorce
, it's probably more in the 30% range).
But what about the children? How could a child grow up in a family with 3 daddies and 4 mommies and boyfriends and girlfriends coming in and out of the picture? For me personally, any sort of gay or poly arrangement is probably better than a single mom. In fact, in a poly family, you have even more adult supervision and mentoring than in a typical mom and dad family. Maybe it could be a replacement for the aunts, uncles and grandparents that used to live in the same house.
What about taxes, survivor benefits, and hospital visitation rights? The speaker was somewhat annoyed that his family didn't get the same benefits as monogamous marriages in terms of insurance coverage, taxes, and other legal stuff. But, as someone who's been single (not married) his whole life, I don't understand why married people get any benefits. 44.1% of the population is single, and it's about to become the
majority
of people.
"It's just not natural. We won't be able to sustain the human race if everyone's in gay or weird poly relationships." I don't have a lot of evidence to refute this, but I have heard that our idea of monogamous marriage is perhaps evolutionarily new, and that tribes used to have much looser structures. If we look to the animal world, both male and female
chimpanzees
have sex with multiple partners, so I don't know if you easily say man-woman monogamous are biologically right.
In some cases, there just aren't enough members of the opposite sex to go around, like in engineering or public health school, or China, where their one child policy and a cultural preference for boys has resulted in
9 million more men than women
. One final thing that doesn't seem natural is when parents pick their children's' spouses in arranged marriages, which this
site
claims occurs in 55% of marriages in the world!
I was originally just going to write about Polyamory, but I thought I'd throw in a few other ideas that have shaken up my worldview.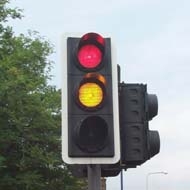 Traffic light in Israel
Traffic Laws
Starting small, in Israel (and many other countries), when the traffic light is about to turn from Red to Green, the
Yellow light comes on for a few seconds
at the same time as the Red, to indicate it's about to go Green. This lets you get your manual transmission going, and also keeps you from having to come to a complete stop if you're approaching the light.
Japanese Address Formats
Continuing on traffic related ideas, there's a great 2 minute TED talk,
Weird, or Just Different?,
in which the speaker describes Japanese addresses. Apparently there are no street names, just block names, and houses are not numbered in order, but rather in the order that they were added to the block. I have no idea how you would find the right house having never been to the block, but maybe that formatting system has other advantages.
Doctors Paid to Keep you Healthy
The same talk also mentions Chinese doctors that get paid more when they keep people healthy, rather than only getting paid when they get sick.
Nude Beaches
I was walking along a beach in Spain on a trip, and suddenly realized I had ventured into the clothes optional section of the beach. It wasn't just old naked men (although they were out in force), whole families were also there. This wasn't too long after the
"wardrobe malfunction"
super bowl episode in the US, where the whole country was up in arms about a potentially exposed nipple--one that
children
may have seen. Here in Spain I was looking at whole families with nipples in every direction, and no one's eyes were falling out. I'm not the first person to point out how it's strange that the US is more afraid of nipples than extreme violence on primetime TV.
I wonder how many other "ways of life" there are that I've never stopped to challenge...